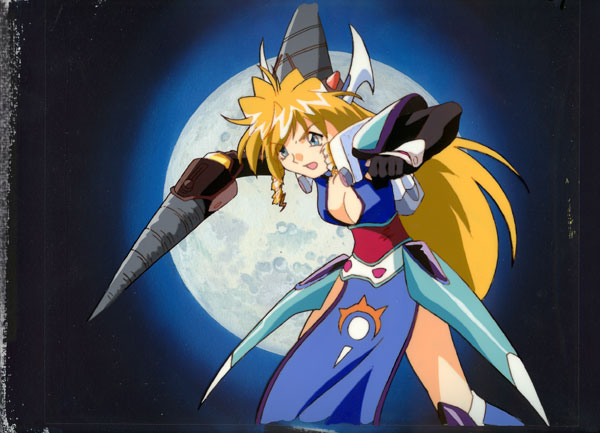 Adventure:
Blue Seed, Iria, Bastard!!, Elementalors,
Princess Rouge, Birdy the Mighty, Shadow Skill,
You're Under Arrest, Gundress, Ninja Resurrec-
tion, Dragon Quest, Fam & Ihrlie, Gall Force,
Plastic Little, Princess Minerva, Nadia, Luna Varga,
Labyrinth of Flame, Flame of Recca, Maze,
Blue Submarine No. 6, Leda, Armitage III, Angel
Links, Outlaw Star, Genji Tsuushin Agedama,
Burn-Up, Hi-Speed Jecy, Genesis Surviver
Gaiarth, Legend of Lemnear
Akazukin Chacha
Battle Athletess Daiundoukai
Bishoujo:
Mahou No Stage Fancy Lala, Bannou Bunka
Nekomusume, Dokkiri Doctor, Momoiro Sisters, Himitsu
Sentai Metamor V, Idol Project, Megami Paradise,
Alice in Cyberland, NeoRanga, Wedding Peach,
Detatoko Princess, Tattoon Master, Idol Tenshi
Youkoso Yoko, Tetsujin 28, D4 Princess
Brain Powerd
B'tX
Children's Shows:
Mama wa Poyo Poyo, Zaurusu
ga Osuki, Tonde Buurin, Magical Taruruuto-kun,
Muka-Muka Paradise, Nanako SOS, Anmitsu-hime,
Soar High! Isami, Mahoujin Guru Buru
Chuuka Ichiban!
CLAMP:
Cardcaptor Sakura, CLAMP School
Detectives, Miyuki-chan in Wonderland
Cutey Honey:
New Cutey Honey, Cutey Honey Flash
Cyber Formula
Cyber Team in Akihabara
Devilman Lady (& Devilman)
D·N·A²
Dream Hunter Rem
El Hazard
Favorites:
Project A-ko, Fushigi Yuugi, Jubei-chan,
Saber Marionette J, Dirty Pair, Ah! My Goddess,
Irresponsible Captain Tylor, Ushio & Tora,
Tenku no Escaflowne, Martian Successor
Nadesico
Gokudou-kun Man'yuuki
Golden Brave Goldran
Granzote
Gundam:
Gundam X, Turn-A Gundam, G Gundam
H:
Natural, Magical Twilight, Tokio Kidoo Police,
Orchid Emblem, The Elven Bride, Battle Team
Lakers EX, Doukyuusei, Midnight Panther,
Bouken-shitemo Iikoro, Venus 5, Dousoukai,
Ai Doru, Virtuacall 2, Parade Parade, Fencer of
Minerva, Mujinshima Monogatari X, Twin Dolls,
Pia Carrot, Can Can Bunny Extra, Toujin Toshi II,
Count Down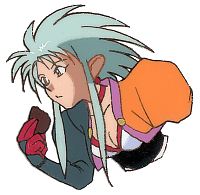 Hyper Police
InuYasha
Brave Police J-Decker
Kakyuusei
Knights of Ramune
Macross
Magic Knight Rayearth
Manabe Johji:
Outlanders, Galaxy Warrior Rai
Marmalade Boy
Master of Mosquiton
Mecha/Senshi:
Samurai Troopers, Microman, GaoGaiGar, Metal
Armored Police Metal Jack, Z-Mine, Hyper-Speed Gran Doll,
Ehrgeiz, Bioarmor Ryger, Battle Skipper, Guyver, Brave Command
Dagwon, Yamato Takeru, Moldiver, Patlabor, Brave Express
Might Gaine, Iczelion, Iczer 3, Tekkaman Blade, Starship Girl
Yamamoto Yohko
Ohbari Masami:
Gowcaizer, Garou Densetsu (Fatal Fury)
Ozanari Dungeon
Ryu Knight
Sailor Moon
Schoolmates:
Debut, Kodomo no Omocha, Chou Kuseni Narisou,
GTO, Attacker You!, Princess Nine, Graduation, Galaxy Fraulein
Yuna, Hana Yori Dango, Ganba! Fly High
Silent Möbius
Slayers
Su-Chi-Pai
Super Doll Rica-chan
The Supernatural:
3x3 Eyes, Haunted Junction, Mamono Hunter Yohko,
Vampire Princess Miyu, NightWalker, Hell Teacher Nuubei,
Bakuretsu Hunter, Ayashi no Ceres, Ghost Sweeper Mikami,
Sorcerous Stabber Orphen
Takahashi Rumiko:
Ranma 1/2, Fire Tripper
Tenchi Muyo! (& Pretty Sammy)
Tenshi ni Narumon
To Heart
Usagi-chan de Cue!!
Urusei Yatsura
Virtuacall 2
Virus
Wataru
Wild Knights Gulkeeva
Wordsworth
YAT Anshin! Uchuuryokou
Yu-No
Zenki (Kishin Douji Zenki)
Miscellaneous:
City Hunter, Hunter x Hunter, Nangoku Shounen
Papuwa-kun, Dragonball, Tenamonya Voyagers, Jibaku-kun,
Chouja Reideen, Kyouryuu Bouken Jura Tripper, Grander Musashi,
Gandella, Earthian, Photon, Compiler, Totsugeki! Pappara Tai,
Key the Metal Idol, 801 T.T.S. Airbats, Ayane's High Kick
The Mystery Gallery
---

This page last updated 11/1/2017. ©2017 Lamont Downs.