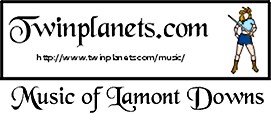 A (More or Less) Brief Diversion
for Tenor, Trumpet, Trombone and! Percussion
Download Page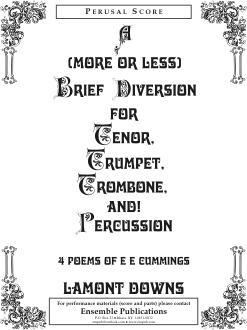 All files are in Adobe Portable Document Format (PDF). You will need the Adobe Acrobat reader (version 3.0 or higher). If you do not already have this installed on your computer you can download and install it without charge from the Adobe Systems site.
Terms:
This work is the property of Ensemble Publications and is protected under copyright. A perusal score of this work is made available here by permission of Ensemble Publications, under the following conditions:

You may:
download this perusal score from this site without charge (except for your Internet provider's connect charges).
You may not:
modify and/or redistribute these files or any other digital representation of the written notation;
distribute printed copies of this work; or
perform and/or record the work, whether for profit or not, except by arrangement with Ensemble Publications.
Performance materials for this work (score and parts) are available from:

Ensemble Publications
P.O. Box 32 · Ithaca, NY 14851-0032
Web: www.enspub.com/index.htm · Email: enspub@outlook.com


Download the score in PDF format (1.7 MB)

"the skinny voice," "Space being(don't forget to remember)Curved," "nobody loses all the time," and "my sweet old etcetera" from COMPLETE POEMS: 1904-1962, by E. E. Cummings, edited by George J. Firmage, are used with the permission of Liveright Publishing Corporation. Copyright © 1925, 1926, 1931, 1953, 1954, 1959, 1991 by the Trustees for the E. E. Cummings Trust. Copyright © 1976, 1979, 1985 by George James Firmage.

Last updated 2/1/2019. ©2019 Lamont Downs.