Richard J. Self Remembered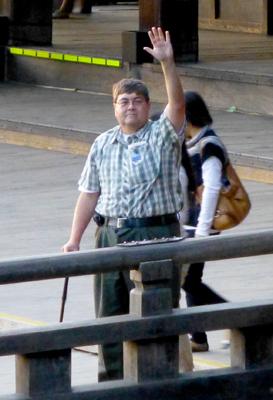 It was in 2005, when for work reasons we had been unable to get to Anime Expo for several years, that Anime Gambit came to our attention as an excellent online cel vendor. After purchasing a number of cels, we contacted the owner, Richard J. Self, to ask if we might stop by his residence on one of our trips and look through his stock. Expecting an understandable refusal, we were surprised to receive an immediate invitation to stop by his home and spend an afternoon.
It proved to be a delightful visit. Not only did we wind up browsing through a truly intimidating number of bins full of cels, but Richard also regaled us with episodes of Totsugeki! Pappara Tai in raw Japanese and introduced us to Shiro and Storm, his two magnificent cats. We finally left with far more cels than we ever expected to find, as well as his invitation to return whenever possible.
Over the next few years we wound up visiting Richard repeatedly on our vacation trips to the Pacific Northwest. He was a charming host, and we found we had much in common, including a love for Indian cuisine. We also developed a regular habit of phoning him every Saturday evening at precisely 9:00 pm to discuss cels, anime, history, current events and whatever else came to mind. Our political views were probably as close to 180° from his as possible but that only made the discussions more interesting.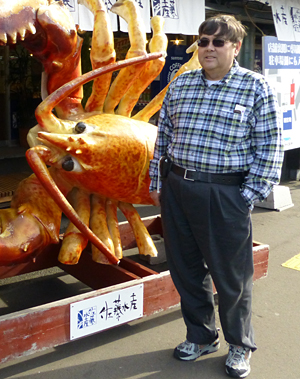 Somewhere along the way Richard invited us to travel to Japan with him on one of his twice-yearly trips to visit friends and buy cels. We were introduced to such delights as Akihabara, Nakano Broadway, the Yamanote Line, Tokyo Tower, and had the opportunity to meet some of his acquaintances in the anime industry as well.
To our delight, we were invited back again, this time by being presented with prepaid plane tickets. In return, we introduced him to some Japanese rail lines and museums even he wasn't familiar with. Nor was Richard's generosity limited to plane tickets; to our surprise we became the recipients of an Acer tablet so that he could keep in touch with us via email when we were away from home.
Altogether we visited Japan three times as his guests. We were well into planning a fourth trip when we received word in February 2016 that Richard had unexpectedly died while visiting family in Southern California.
Saturday evenings are very quiet these days. We miss you, Richard.
Lamont & Pat
This page last updated 9/30/2017.