---
Although in Japan the word manga is broadly used to cover almost any kind of "cartoon," whether a comic book or an animated movie, in English-speaking countries it has come to refer to the unique Japanese novels in drawn form known as "graphic novels." Superficially, these "manga" are the Japanese equivalents of our comic books. But before you snort and hit your "Back" button, consider these differences:
Japanese comics are not locked into the rigid panel format of most Western comics (although some progressive artists here are starting to learn);
Japanese comics are almost exclusively in black and white, sometimes with a few introductory color pages at the start of a volume;
Japanese comics are typically published an episode at a time, included within giant cheaply-printed volumes issued once a week and colloquially known as "phone books," then reissued as separate volumes of up to 200 pages or more. In this form they are typically referred to as "graphic novels";
A single continuing story can run to thirty or more volumes and/or several thousand pages by the time it's run its course;
Japanese comics are much less subject to the rigid censorship typical of U.S. comics (at least until recently): like anime, manga in Japan is recognized as a literary/entertainment form for many age groups and both sexes, not just children and/or adolescent males;
And, finally, they're in Japanese. This can present certain difficulties for Western readers, for only a tiny fraction of available manga are available in translated form in the West.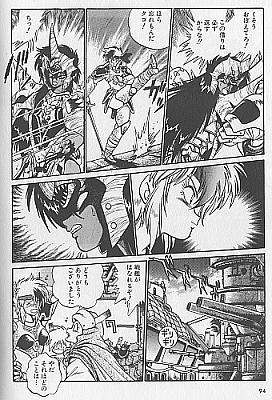 A page from Johji Manabe's Dorakuun, also available at one time in English translation by Dark Horse Comics under the title Drakuun

Japanese comics frequently exhibit the astonishing imagination and visual creativity that has made anime itself such a favorite genre outside of Japan. Many enthusiasts come to manga after having first encountered anime, curious about just where the concepts and characters in a favorite series originated. Remarkably, they sometimes find the original manga even more inventive and engrossing than the animation (after all, if the anime is "the movie," the manga is "the book" and is often much more deeply thought out and detailed than an hour or so of video could manage).

As one example, the video OAV series Video Girl Ai is contained on one DVD (6 episodes). The manga, on the other hand, is over a hundred chapters long, and well over a thousand pages. Only a fraction of this engrossing story was animated.

Manga have over the years developed a visual language all their own, and one far more sophisticated than that of American comic artists. Pages are not broken into regular panels, but can have the action and dialogue spread all over the page (or even two pages), with or without borders. Several pages may be devoted to the progression of a single physical event or motion, such as a character recognizing another, and the results can be incredibly cinematic at times. As a result, rapidly reading a sequence of such pages is sometimes more akin to viewing a movie than reading print material.

A growing selection of manga translated into English is currently available in the United States and Britain. In the past the artwork was generally "flipped" to allow for the fact that the Japanese read from right to left and from back to front (at least from our point of view), while we read from left to right and front to back. For the most part this practice has been abandoned in favor of greater authenticity, not to mention that flipping the artwork could cause major problems with signs, etc. in the panels. However, the original artwork is still often mangled to some extent or another; in some cases pages or even entire chapters may be deleted or the artwork censored to a greater or lesser extent, reflecting the prudery still rampant here. Even so, these are a great way to introduce yourself to this remarkable genre.

But to really enjoy the tremendous variety of manga, you need to visit a Japanese bookstore and browse through the many titles. Some of the genres available include:
Comedy: such series as Ranma 1/2 and Urusei Yatsura surely rank among the funniest literature available in any language, IMHO.
Shonen: the most familiar genre here, and the one best represented in translation, this is the action/adventure genre for young males. Lots of samurai violence and pathos, and lots of blood spatters (remember, though, this is all in black and white). Sports novels are also extremely popular, especially baseball.
Shojo: manga for female readers. These aren't romance novels, but rather a completely different approach to the whole manga art. Focus is on the characters' emotions, not on action (though there's often plenty present). Page layout is extremely free, with dialogue, thoughts, and artwork sometimes spread over two pages in what at first appears to be no order at all. Some examples available in the U.S. in translation: Sailor Moon and Fushigi Yuugi.
Science fiction: In spite of Japan's deep respect for custom and its innumerable ancient legends, it also produces some of the best science fiction in the world, usually in manga form. Unlike much U.S. science fiction, the Japanese variety almost always includes a certain amount of heart as well, giving it an emotional impact that purely intellectual speculations lack.
Space adventure:
No one compares with Johji Manabe in this genre (IMHO). Such classics as Autoranda-zu (Outlanders), Dorakuun (Drakuun) and Kyaraban-kiddo (Caravan Kidd) are without peer, and all are happily available as well in good English translations (although on at least one occasion I spotted a bit of needlessly prudish censorship in the redone artwork for Drakuun).
Yaoi: a uniquely Japanese phenomenon, these are male same-sex love stories between men. Interestingly enough, the audience for these is almost exclusively young heterosexual women. Some titles: Fake and Kizuna (also available in excellent anime OAV adaptations). There is also a genre (yuri) for female/female romances.
Supernatural horror: A master at this genre is Takahashi Rumiko, in such titles as Mermaid's Scar and The Laughing Target. (Takahashi is also author of the comedy masterpieces Ranma 1/2, Urusei Yatsura and Maison Ikkoku). The Japanese have legends of demons and other supernatural horrors dating back at least several thousand years, and a very well developed chill-up-the-spine reflex. One very special genre they've perfected is the combination of supernatural demons versus 20th century science, in settings where both are taken as perfectly plausible (Blue Seed).
Porn: 'nuff said.
Happy reading!

Dorakuun Copyright Kadokawa Shoten/Jouji Manabe * Drakuun Copyright Studio Proteus/Dark Horse Comic.

Last updated 5/1/2019. ©2017 Lamont Downs.